adaptr
The adaptr package simulates adaptive clinical trials using adaptive stopping, adaptive arm dropping and/or response-adaptive randomisation.
The package has been developed as part of the INCEPT (Intensive Care Platform Trial) project, which is primarily supported by a grant from Sygeforsikringen "danmark".
The full package documentation is available as a stand-alone website at inceptdk.github.io/adaptr.
Installation



# The easiest way is to install from CRAN directly


install.packages

(

"adaptr"

)





# But you can also install the development version from GitHub (requires the remotes package)




# install.packages("remotes") 




remotes

::

install_github

(

"INCEPTdk/adaptr@dev"

)
Example
The basic functionality of adaptr is illustrated below.
First, load the library and setup a trial specification using the general setup_trial() function, or one of the special case functions, setup_trial_binom() (used in the example) or setup_trial_norm().
Simulate a single trial using a reproducible random seed:
Simulate multiple trials using a reproducible random seed:
Plot trial statuses or history of trial metrics over time: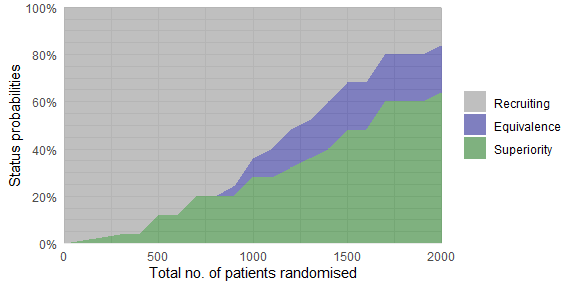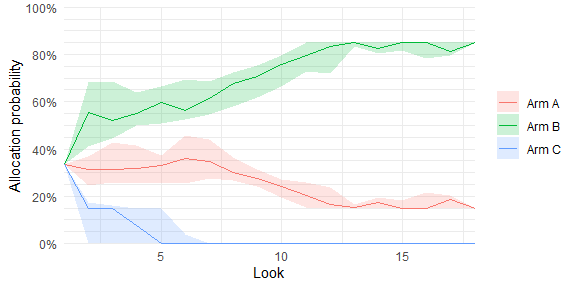 Plotting statuses for individual trial arms and other summary metrics is possible, too.
Issues and enhancements
We use the GitHub issue tracker for all bug/issue reports and proposals for enhancements.
Contributing
We welcome contributions directly to the code to improve performance as well as new functionality. For the latter, please first explain and motivate it in an issue.
Changes to the code base should follow these steps:
Fork the repository
Make a branch with an appropriate name in your fork
Implement changes in your fork, make sure it passes R CMD check (with neither errors, warnings, nor notes) and add a bullet at the top of NEWS.md with a short description of the change, your GitHub handle and the id of the pull request implementing the change (check the NEWS.md file to see the formatting)
Create a pull request into the main branch of adaptr
Citation
If using the package, please consider citing it:

citation

(

package 

=

 

"adaptr"

)




#> 




#> To cite adaptr in publications use:




#> 




#>   Granholm A, Jensen AKG, Lange T, Kaas-Hansen BS (2022). adaptr: an R




#>   package for simulating and comparing adaptive clinical trials.




#>   Journal of Open Source Software, 7(72), 4284. URL




#>   https://doi.org/10.21105/joss.04284.




#> 




#> A BibTeX entry for LaTeX users is




#> 




#>   @Article{,




#>     title = {{adaptr}: an R package for simulating and comparing adaptive clinical trials},




#>     author = {Anders Granholm and Aksel Karl Georg Jensen and Theis Lange and Benjamin Skov Kaas-Hansen},




#>     journal = {Journal of Open Source Software},




#>     year = {2022},




#>     volume = {7},




#>     number = {72},




#>     pages = {4284},




#>     url = {https://doi.org/10.21105/joss.04284},




#>     doi = {10.21105/joss.04284},




#>   }